This parody is of Let it go by Frozen. Based on a character from my new wiki Guardians of Camoria Wiki. Dawn almost killed his friend out of anger and ran way down to the great abyss and unfroze all Norm.
Lyrics: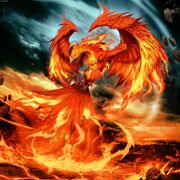 The heat grows high over Norm tonight
So much anger, so much flaws
A source of abomination
So it looks like I'm the cause
The fire's blazing liked my stained temper inside
Almost killed my friends; I fell down and cried
They ran away when I broke free
Am I the Creature said in the prophecy?
Delay, deny
Redeem don't know
Well now I KNOW!
Let it go, let it go
I refuse to live in shame
Let it go, let it go
See my fire blaze aflame
They can say whatever they want to say!
Let the heat rage on
The fire never bothered me anyway
It's scary how my memos put a pause to my whole path
But the creatures whom dare to challenge me are sure to feel my wrath
It's been like years since I've stood here
I'll force my path to reappear
No rules, no pain, no cold for me. I'm FREE!
Let it go, let it go
See my inferno burn a lot
Let it go, let it go
Can't be cold if you're hot
So what if my soul was made this way
Let the heat rage on…
My phoenix powers heave the air and toast the ground
My furnace ashes shout the sky and descend all around
Keep calm, breathe in, breathe out, ignore, ignite the lies
I will never grieve my past, my future's open wide
Let it go, let it go
They'll fall like the breaking dawn
Let it go, let it go
That patient teen is gone
Here I build my own aflame array
Let the heat rage ON!
The fire never bothered me anyway