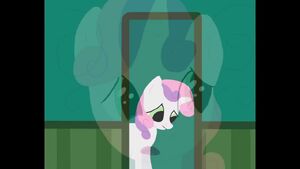 Belle wants Rarity to teach and play dress up with her. But Rarity turns away until she gets very sick. Sweetie comes to visit her and apologizes. Inspired by Do you wanna build a snowman?.
Sweetie Belle: Rarity? (Door knock)
Can I help you make some dresses?
C'mon let's go and sew
I still don't have my cutie mark
I know it's getting dark, but maybe it'll show
You used to let me help you
And now you don't, why is clumsy and small so wrong?
Can I help you make some dresses?
They don't have to be just dresses
Rarity: Go away, Sweetie
Sweetie Belle: Okay, so long
Can we try on some new dresses?
Or do our manes with funny bows
No pony's here to give me fashion tips
I started wearing tips with neon dominos
Does this match?
It's gets a little lonely in this big boutique
Just watching the hours glide by (Sigh)
Hey there big sis, it's been awhile
I think about you everyday
I'm so sorry that I once bothered you
I was just trying to get you to come and play
I've always looked up to you
And I loved you so
And now could slip away
Can I help you make some dresses?