This song I made when I saw all the new Christmas songs. So I wanted to make a villain based on the lies parents spread to their children: Santa.
It starts when parents start missing their children on Christmas week. The mayor has a meeting with the village to figure out the problem. But Santa appears on stage and kills the mayor. The crowd gasps and the remaining children cry in fear and shock. Santa explains that he didn't bring the gifts but the parents did. And how he, and his elves, are on a mission to eternally end Christmas.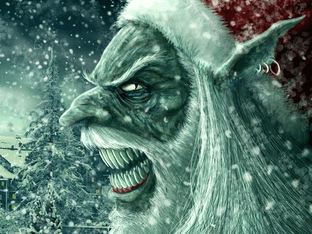 Santa: It's time that you children abide to
The true Claus and his little friends
Although not the ones you've been lied to
But positively raged by amends

Elves: We'd like to affirm you no jingles
Reindeer is our supper no more
And whenever you see our shingles
It's because we're part carnivore

Santa: Kids, prepare for an abominable Christmas
Be prepared for the true God's wrath

Elvis: It's like any villain
Who kidnapped your children

Elijah: If he aint a breadwinner
Then we'll have no dinner

All elves: With friends throughout cities
We own all the kiddies

Santa: So don't try to hinder our path

Elves: Hide your youngsters from being ensnared
Santa and Elves: Be Prepared!

Elves: Hide your youngsters from being ensnared

Santa: Be Prepared!